In order to feel great and at our best, it is essential that we lead a lifestyle that is fit for both the body and the mind.
Whether it's the food you eat, the regular workout routines you do or the time you take to focus on the mind, there are plenty of ways to boost your mood while improving your overall health and wellbeing at the same time.
In this article, we'll introduce the concept of how the types of food you eat can play a significant role in feeling physically and mentally on top of your game!
.
Brain food and where to begin
We're all guilty of the odd snack here and there, and in moderation having the occasional treat is perfectly fine. However, overconsumption of processed foods and refined sugars has been shown to impair brain function and worsen mood disorders such as depression.
Our brains require nourishment from vitamins, minerals and antioxidants to reduce oxidative stress and inflammation, hence what you eat directly impacts how you feel.
So, in a nut-shell consuming a balance of fruits, vegetables, wholegrains, proteins and good fats is the key to nourishing our bodies with the macro and micro nutrients we need to function at our peak, both for our physical and mental health.
Here is a list of 5 foods that can help you feeling great both physically and mentally:
.
1. Fatty fish
Omega-3 fatty acids are a group of essential fats your body needs but cannot produce on their own.
Fatty fish like salmon and tuna are rich in two types of omega-3s (DHA & EPA) that contain anti-inflammatory properties. Additionally, these essential fats are linked to promoting a healthier state of mind by contributing fluidity to your brain's cell membrane and assisting with brain development and cell signaling.
2. Dark chocolate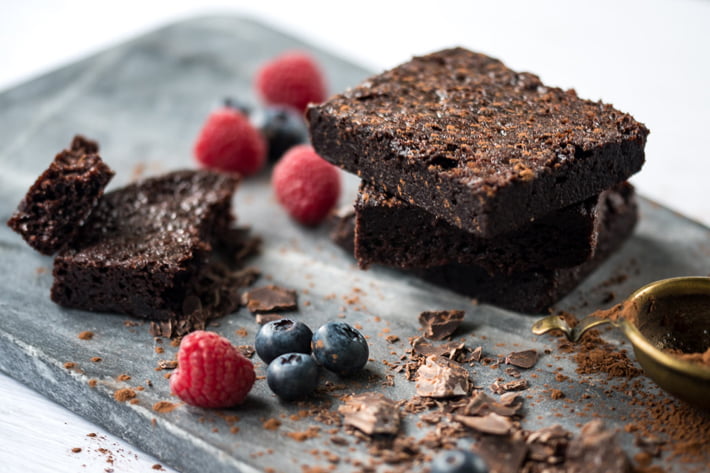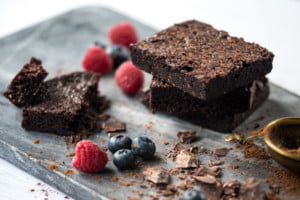 Yes, you read that correctly. Chocolate, often considered a no-no from a healthy eating perspective, does have some good mind benefiting properties.
Chocolate is high in health-promoting flavonoids, which have been shown to increase blood flow to your brain, reduce inflammation, and boost brain health, all of which may support mood regulation.
But before you rush out to get your chocolate fix, remember that milk chocolate contains added ingredients like sugar and fat, so it's best to opt for dark chocolate – which is higher in flavonoids and lower in added sugar. Stick to 1–2 small squares (of 70% or more cocoa solids) at a time since it's a high calorie food.
.
3. Fermented foods
Fermented foods, including the likes of yoghurt, kimchi, kombucha and sauerkraut can assist in improving overall gut health and your mood.
The fermentation process allows good bacteria to thrive in food and create probiotics.
Probiotics are best known for their role in digestive health, but emerging research suggests that bacteria in the gut sends and receives signals to the brain too!
These live microorganisms support the growth of healthy bacteria in your gut and may increase serotonin levels which the brain uses to regulate anxiety, promote happiness, and improve mood.
.
4. Nuts and seeds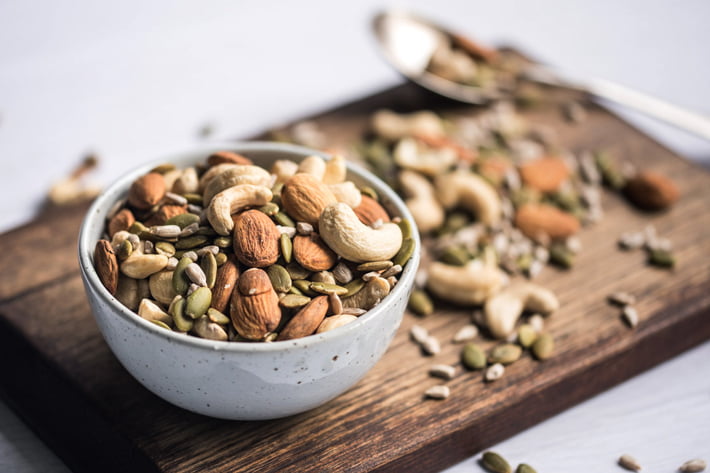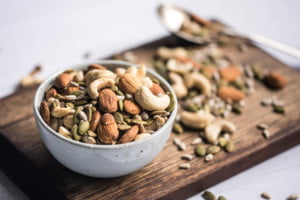 Nuts and seeds are high in plant-based proteins, healthy fats, and fiber.
Almonds, cashews, walnuts and sunflower seeds are packed with amino acids that are responsible for producing mood-boosting serotonin and make for a great snack.
Additionally, certain nuts and seeds such as Brazil nuts and pine nuts are great sources of zinc and selenium – where some studies have shown that deficiency in these minerals have been associated with higher rates of depression.
.
5. Leafy greens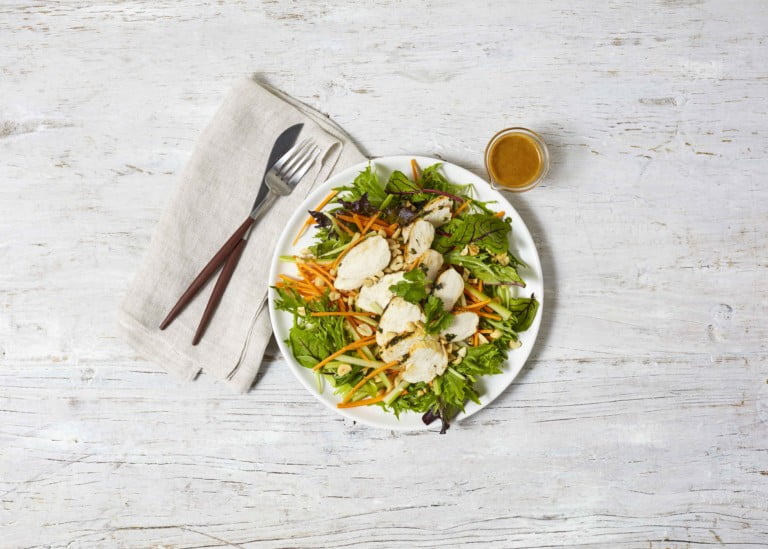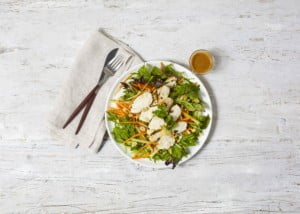 For a lot of us, from a very young age we've been drilled on "eating your greens" and for good reason. On top of the physical benefits that vegetables provide, there are some compelling reasons from a mental perspective as well.
Leafy vegetables such as spinach, broccoli and kale contain the B vitamin, folate. Folate assists in the metabolism of serotonin, dopamine, and noradrenaline, all important brain chemicals that help regulate our mood.
Folate is also plentiful in beans and lentils, with a cup of cooked lentils providing 90 percent of the recommended daily allowance.
.