Organic fresh fruits and vegetables should be the major players in all of our diets. Rich in fibre, vitamins, mineral, antioxidants, phytochemicals and more, these superfoods offer us health, wellness and vitality with minimal risk of the negative side effects that pharmaceutical interventions may pose. Whether you have a mild case of the winter blues or you just want to have more energy, clear skin and a happy gut, juicing can be an easy way to harness the nutritional power of fruits and vegetables.
We offers 5 easy recipes to get you started on the road to wellness. Juicing is a great way to start your morning, give yourself a mid day boost or even substitute as your late night snack. Our juices are simple, easy to make and incorporate nutrient-rich. We encourage you to try them as they are but as you get a sense for the flavours you like, feel free to substitute ingredients for what is at hand or flavor combinations that pique your curiosity.
We encourage you to buy the best fruits and vegetables you can afford and of course, organic wherever possible. When you begin with the best ingredients, you reap the most benefits. For each juice, simply wash fruit and veggies first and then juice the ingredients and enjoy. You can pour over ice if you wish, dilute with filtered or sparkling water or drink them simply as they are. Ideally, your fresh juices should be consumed immediately but you can juice in the morning for a midday treat if you know you'll be away from home if you can keep the juice chilled. As you drink these, if you love the taste and are feeling brave, try adding greens like kale, spinach and celery to your sweet juices to give you an additional 'super charge.'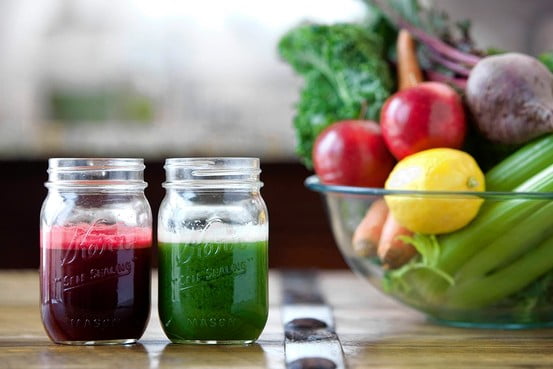 1. Power C
With Carotene and loads of Vitamin C, this is the perfect sunny juice for a gloomy day.
Ingredients
1 small orange, including rind, seeded and cut into pieces
1 small green apple
2 carrots, scrubbed clean and cut into pieces
Juice of 1/2 lemon (stirred in at end) Note: If you can find Meyer lemons, they are sweet, fragrant and beautiful for juicing.
2. Berry Blast
Berries top nearly any superfoods list offering a host of health benefits and most people agree, they taste great!
Ingredients
4 cups of any mixture of the following:
Blueberries
Strawberries
Blackberries
Cranberries
3. Pear-Fect
The pear and cucumbers make for a bright and energizing flavor combination. The kale and celery add green power.
Ingredients
1 medium cucumber
2 celery stalks
3 small pears
1 handful kale or spinach
4. ABC Juice
ABC juice is great if you feel a cold coming on. With all bases covered, ABC juice may knock out that cold before it gets a foothold or replenish yourstores of vital nutrients to help you get better quick.
Ingredients
1 red apple
2 beets (golden or red)
3 large carrots
1 (1-inch) piece of ginger
Spinach or kale (optional)
5. Beet the Blues
Compounds called anthocyanins give fruits and vegetables their vibrant colours. These same pigments also act as powerful antioxidants.
Ingredients
2 beets (red)
1 cup mixed berries
1 apple
a few leaves of purple cabbage